In an effort to be more aware of time as it continues to rush by and also inspired by Alice and Nat I decided to write up some yearnotes for 2019.
Life stuff
This was the year Cooper embraced lap life. Honestly I can't sit down for more than a couple of minutes now without him leaping on me, which is a big change from last year when he entered my life. Here's Cooper sat on my lap: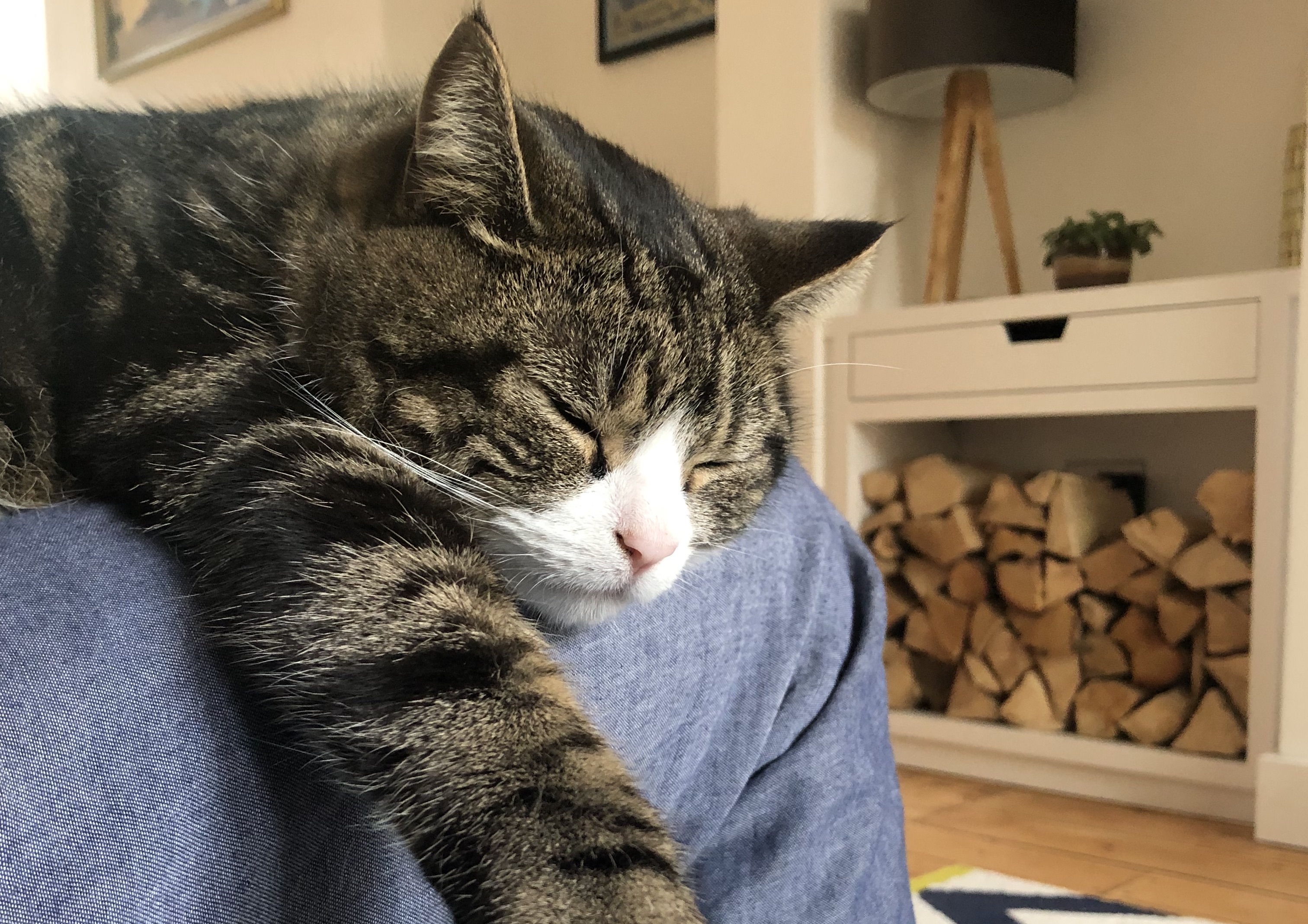 I also became an uncle for the third time and I'm very much looking forward to getting to know young Fiadh as she grows up. Here's a picture of Fiadh: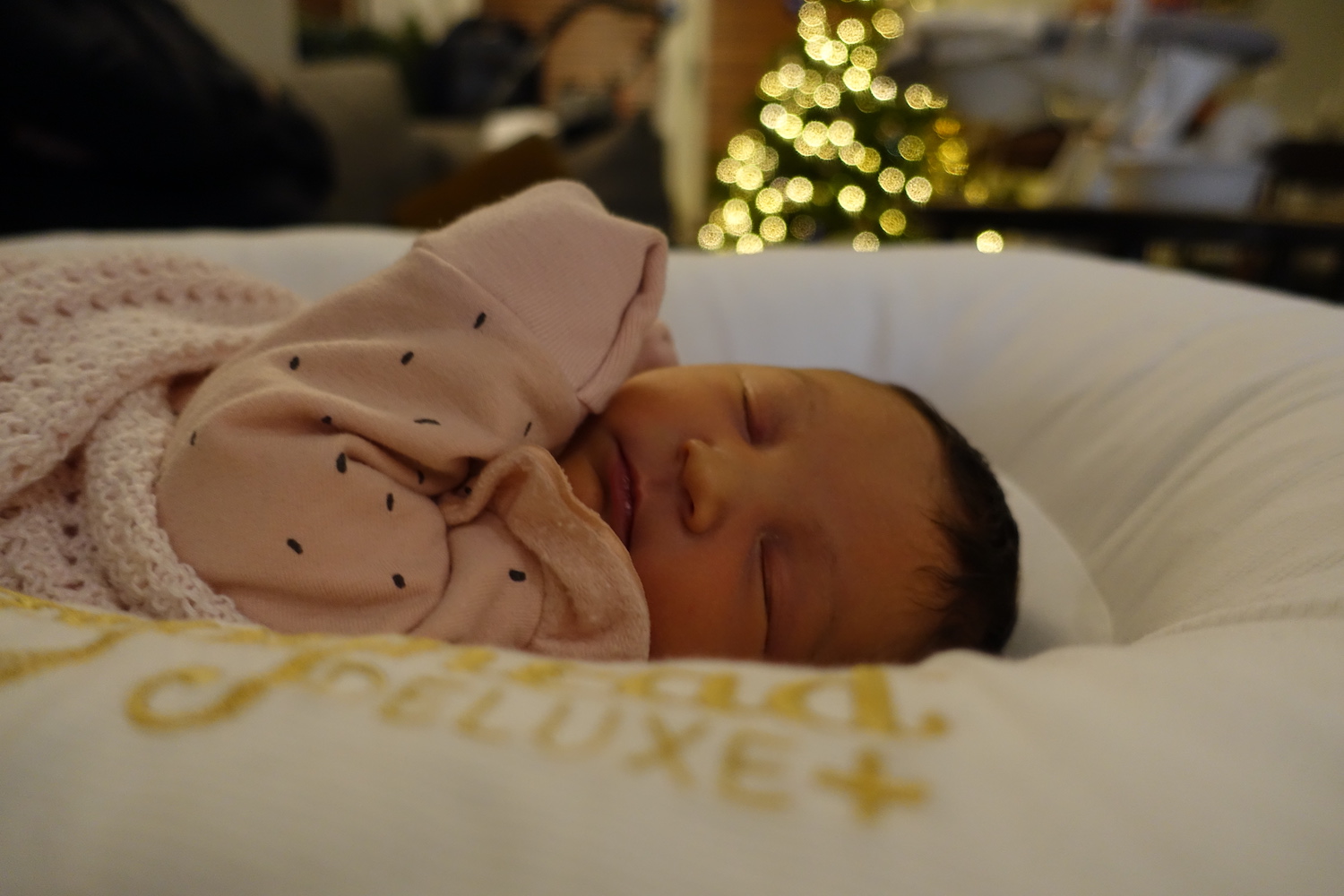 Culture and things
I'm terrible at remembering the gigs and films I've seen so this year I plan to keep a log to make 2020's yearnotes easier.
Film-wise I don't think it was a vintage year, but the ones that stuck with me were The Favourite, If Beale Street Could Talk, Us, Destroyer and High Life.
Gig-wise the highlights (that I can remember) were mostly at We Out Here Festivial, especially seeing Gary Bartz followed by The Comet is Coming closing out the last day.
There wasn't much that grabbed me at this year's Manchester International Festival, but I really enjoyed immersing myself in the David Lynch programming at HOME. In fact much of what I enjoyed culture-wise this year happened there, including Grand Finale by Hofesh Shechter and The Animals and Children Took to the Street.
Television is where it's at these days and this year had some real corkers. My personal highlights were Fleabag, Succession, Chernobyl, Russian Doll and Watchmen.
The games that tickled me this year were Sekiro: Shadows Die Twice, Untitled Goose Game, A Short Hike, and a late entry for Beat Saber.
Walking club
Me and a bunch of friends have an informal walking club which hikes out in the hills once a month, usually somewhere in the Peaks. This year we did some great walks including the eerie Lud's Church, some breezy crags and shapely pinnacles outside Todmorden, puffin spotting in North Wales, and a foggy icy trek over the Brontë Moors near Haworth.
Most of our treks are taken from Ordnance Survey Pathfinder walking guides. I love these books. The walks are beautifully planned, always interesting and have well-written directions littered with fun turns of phrase and facts about the locale. Walking club is generally a civilised affair unless someone tries to break the first rule of Walking Club: no modern technology allowed for orientating; book map and instructions only.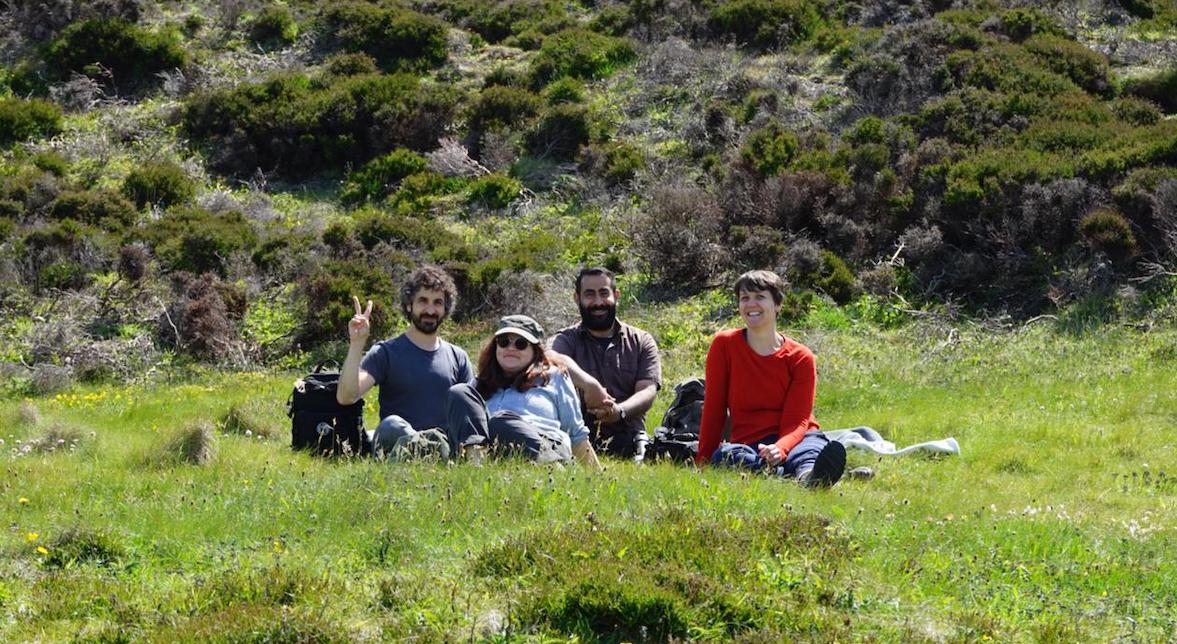 Yorkshire Cycle tour
In July me and a few pals got on our bikes and cycled around North Yorkshire for a weekend. It was a great trip. Yorkshire is stunningly beautiful, but also a bit lumpy. We did 3,500 meters of climbing over the three days. Highlights included: cycling up to Tan Hill, Britain's highest Inn (it has it's own snow plough); stumbling upon the Forbidden Corner (if you haven't been you really should); and bivvying in a random field on the last night.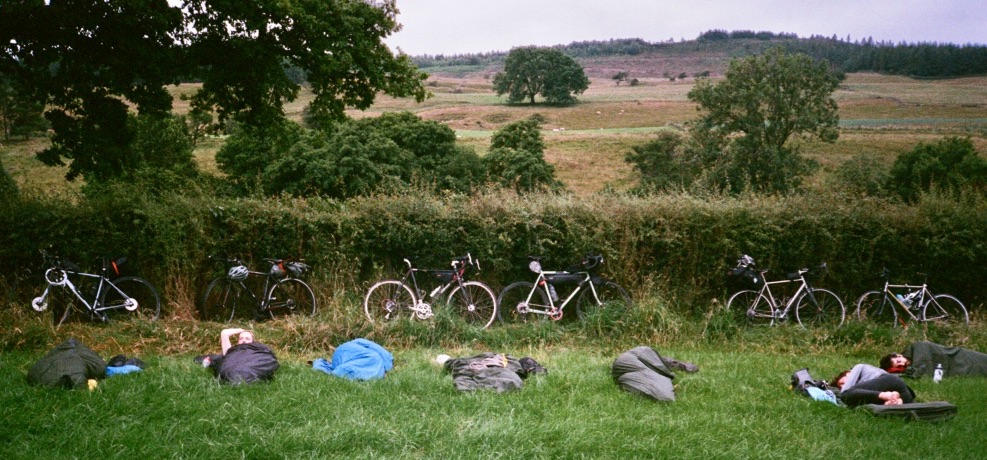 Work and things
In February I gave my Branch in Time talk at RubyConf Australia in Melbourne. This talk played a massive part in my 2018, and it was good to be able to hone it and give it a final outing. Plus I got to turn the trip into a holiday and visit the beautiful Gold Coast, including a visit to Tropical Fruit World.
I've since had a couple ideas for more talks but haven't made the time to explore them properly. Maybe this year.
In April I started on a new project with DXW and Paper to deliver the beta for a new service paying retention payments to teachers for the Department for Education. Out of the gate it was clear we were going to be up against it. There was a ministerial commitment to launch in September plus we had some major design, technical and operational challenges to overcome. Thankfully we had an incredible team and supportive folks at DfE who worked tirelessly to unblock and enable us to get the job done. The service started accepting private beta applications in August and launched fully to the public in October, a fantastic achievement by the team. The best part for me was how we managed to do it with very little stress or drama, mostly by striving to keep things as simple as possible whilst being deliberate and considered with how we iterated towards the full service.
My other plan for the year was to focus more on writing, particularly around working effectively with Git. On this front I didn't do so well. I have a list of article ideas as long as my arm but struggled to find the motivation to write and publish much at all. Something I hope to change in 2020.
New website
One of the things I did to distract myself from not writing was to rebuild this website. My old site was literally a decade old and in bad need of modernising. My focus was to build something from scratch that was responsive, semantic and fully accessible, and I think I did a pretty good job of it.
I ditched some big tech
I also managed to wean myself off a bunch of Google services for more privacy-friendly and less evil alternatives. I moved my email from Gmail to Fastmail, which was quick and painless thanks to the fact I use my own domain. I switched my default browser to DuckDuckGo, which is mostly fine, and when it's not it's easy to fall back to a Google search using a bang shortcut. I stopped using Google Chrome except when absolutely necessary (web companies: don't be dicks; build for the web and not just Chrome). I also removed Google Analytics from this blog and try and use Apple Maps most of the time (which still isn't quite as good unfortunately).
By the way, you are running a privacy tool in your browser, right? I've been using Better on my Mac and iPhone this last year and it's great: simple, unobtrusive, effective and independent.
I also pretty much(1) avoided buying anything from Amazon in 2019, who are slowly eating the world. A little extra friction in consumption feels more like a feature than a bug. For books I've been going to my local bookshop, which often means a bit of a wait for unstocked items, but on the up side my pile of unread impulse-purchased books has actually shrunk for the first time in years!
Speaking of books, I also joined my local library. It feels good to be supporting a public service that is essential to so many, but it's also helped me read more. Turns out the books I want to buy (and keep) tend to be books I think I should be reading, which are generally less accessible and more difficult, whereas when I get home of an evening what I actually want to be reading is something more relaxing and laid back. Now I can borrow and unwind to a bunch of page-turning fiction for free, rather than falling asleep two paragraphs into something dense and difficult(2).
I'm pretty much off Facebook these days but haven't quite managed to ditch it yet. Maybe in 2020.
I mostly stopped eating meat and dairy
For ethical, environmental and health reasons I also cut back on meat and dairy in 2019. This was partly achieved by not buying any for home and discovering some great vegetarian cookbooks, but also by opting more for vegetarian options when eating out. Luckily eating delicious meat-free food in Manchester is super easy these days. I'm not sure if I'll ever make it to full veganism though. I had possibly the most delicious meals of my life this year at Asador Etxebarri in Spain and that definitely wasn't vegan. Also if anyone has found a truly satisfying dairy-free alternative to ice cream, hit me up!
1: By-proxy I bought something from Amazon thanks to a drop-shipper on eBay. These dastardly folks list items with a markup on the Amazon price, then when you buy from them they simply place an order with Amazon to be delivered directly to you, taking advantage of free delivery and pocket the difference. I also have a small amount of data sat in an S3 bucket. Every month Amazon send me an invoice for 7p and every month they fail to charge my credit card 🤷.
2: I'm still determined to finish Infinite Jest though.
Authored by

Tekin Süleyman
Published by